Not So Sure About These IZOD Golf Pants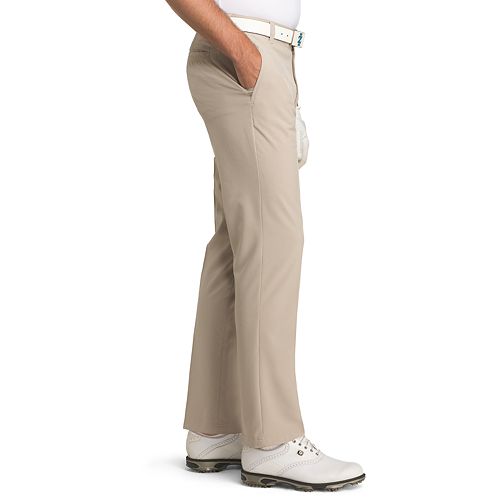 When I was younger, I thought IZOD was a pretty good brand. So when I was at Kohl's shopping for some wrinkle-free microfiber wash-n-wear no-iron dress pants that could, as they say, go from the boardroom to the bar, I thought these Izod golf pants looked like dress slacks but could stretch and be washed and be inexpensive and make me look dressed up. I thought, hey, these would go well with a shirt, tie, and blazer or with a polo-style shirt.
From day-1, my wife has looked at me in them and frumpled her face and says, "I'm just not so sure about those."
I really do think I'm fooling everyone, but am I? Or are people looking at me and saying, "why is that guy wearing golf pants to work?"
Should I care? In a world where Account Executives wear jeans and logo-Ts to work on days when they don't have appointments or presentations, or when everyone wears chinos and jeans, should it matter?
This is where our P.C. society (and my current lack of co-workers) fails me. In the old days, if someone dared show up making a bold fashion statement, and it was obviously a failure, co-workers would point it out.  If I showed up to work in a white half turtle-neck and blazer, I'd be helped by co-workers all saying, "what the hell is that you're wearing?" And it would be the last day for that turtle-neck/blazer look.  If someone wore a blue shirt with a white collar, he should rightfully be mocked and immediately retire that 80s/90s look.
Hence, here I am confidently sitting my Black IZOD Swingflex Stretch Performance Golf Pants from Kohl's and I believe in my heart I look like I'm wearing wool-blend dress pants …but what if I don't?
These are the things that stress me out on my commute each day.